(I hope you read the first installment in the Economics of Hyrule series. I also hope that you won't interpret the word "series" too broadly, because I doubt I'll get on to A Link to the Past after this, even though it's probably the best game ever.)
Anyway, the events of The Legend of Zelda have passed, and we've moved on to Zelda II: The Adventure of Link. Kind of a strange title, given that The Legend of Zelda was also an adventure of Link, as are the, I dunno, 90 games that followed. It's odd to single this one out as THE adventure of Link, is what I'm getting at.
But we're not here to talk about game titles. We're here to discuss VIDEO GAME ECONOMICS.
So, Zelda II. This game is ENORMOUS in scale compared to the original. In fact, here's a map showing just how enormous the Hyrule of Zelda II is compared to the Hyrule we discussed last time: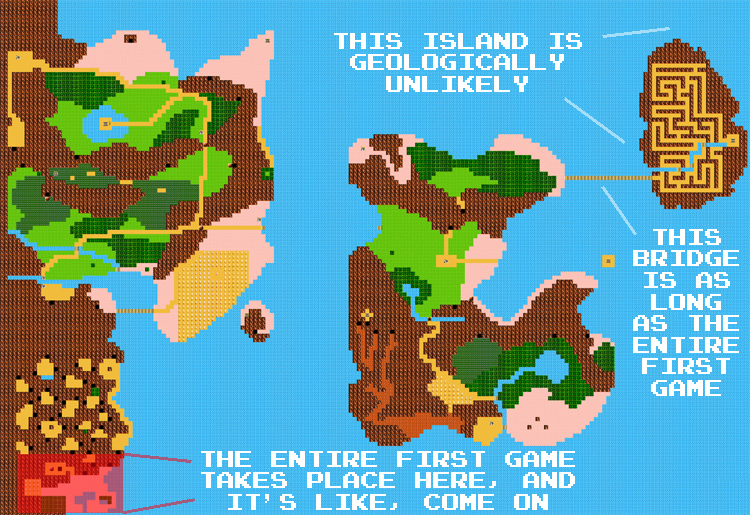 Yeah. So the entire last game happened in what is basically the parsley garnishing a 4-course meal. And while that feels like a dumb thing to say, I'm confident that it's the best parsley analogy you've heard today. Now, if you'll recall, that little bit of parsley was home to 9 dungeons, none of which even appear on this map. Just think of how many other dungeons this map is hiding! A little bit of extrapolation reveals Hyrule to be an out-and-out dungeon world, which raises all the same "who financed all these dungeons" questions we faced in The Legend of Zelda. That's bad enough, but now we're faced with a slew of new questions, too.
You see, in addition to what may very well be 90 ignored dungeons, Hyrule is peppered with 8 friggin' palaces. From the looks of things, Hyrulean royalty really hates changing wallpaper, opting to just build a new palace when they get tired of the décor. I say this because Zelda II offers us 8 towns (admittedly an improvement on the original's whopping ZERO), and I really can't fathom an economy that permits a masterfully (and sadistically) engineered palace for each tiny burg. Most small towns I'm familiar with can't even put bleachers on both sides of their high school football fields.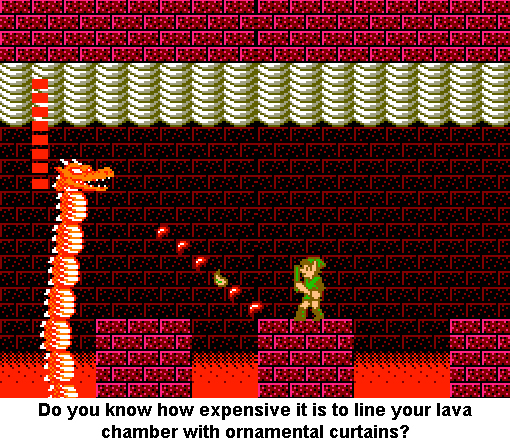 Perhaps Hyrule is simply a land of extreme surplus. Perhaps it is so rich, and its people so appreciative of the whimsical monarchy, that a palace for every village is a reasonable expense. And perhaps the people have genetically altered themselves to be photosynthetic, because there ain't no farms in Hyrule! (There IS a GIANT graveyard, however, because Hyrule is a land of death.) Photosynthesis aside, we must presume that Hyruleans subsist mostly on a.) fishing and b.) walking back and forth through towns they obviously don't live in, since there aren't nearly enough buildings, which is perhaps the most novel food source ever imagined.
Hell, I just made up the bit about fishing.
In The Legend of Zelda, we learned that Link makes his living by killing wild animals and hoping they'll drop some coins. Sucks for him that the monsters in Zelda II never drop money! Instead, they give experience points (which are notoriously difficult to exchange) and the occasional bottle of magical essence (which, despite being bottled, is impossible to carry around, the people of Hyrule having yet to uncover the secrets of bag technology). But it turns out not to matter, because there are no shops, shoppes, or even sshhopppess to spend money in anyway!
There are no stores or workshops, and no farms, fishing boats, herders, Frederik Pohl-inspired protein miners, or even hunters – not that there could be hunters, since the animals of Hyrule don't leave corpses, and experience points are a very low-calorie food. Ergo, these people do not eat, nor do they make or trade things. Ergo, their clothing is imaginary, and their buildings are relics of a bygone civilization.
Given that there's no agriculture, industry, or commerce to be found, there seems to be no Hyrulean economy whatsoever. When you consider the extreme lengths Link has to go to in order to obtain a simple goddamn hammer, it becomes evident that Hyrule is an incredibly stunted, backward land that is probably better off being conquered by villains who, by default, must be more forward-thinking.
It all seems so clear, except that it makes no sense whatsoever. There's another wrinkle to the story, and it makes for a massively successful movie in 1999.
You can test this yourself: go play Zelda II. Go into the first town, and try to stab somebody. Doesn't work, does it? Know why? Because they're all ghosts. Every human (or elf or whatever) in Hyrule not named Link is dead. This explains the cemetery that's far bigger than all the towns in the world combined. It also explains why nobody needs food. It doesn't explain the palaces, but, my friends, nothing is ever going to explain the palaces.
That's as much sense as Zelda II is ever going to make. I could get into the fact that Link seems to have given himself the goal of slaughtering all living things, but I think we already know that he's probably a pretty evil dude.
Care to read more reviews, or perhaps go back to Mountain Time?